Print of 'Roughers off Port Stanley - 1982' by Adrian Thompson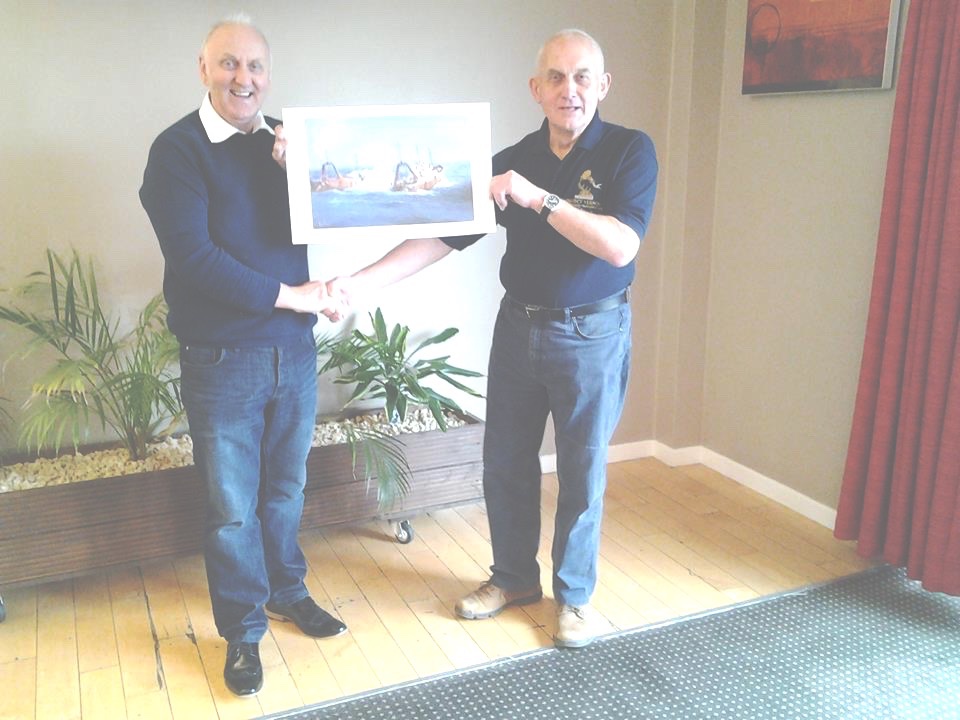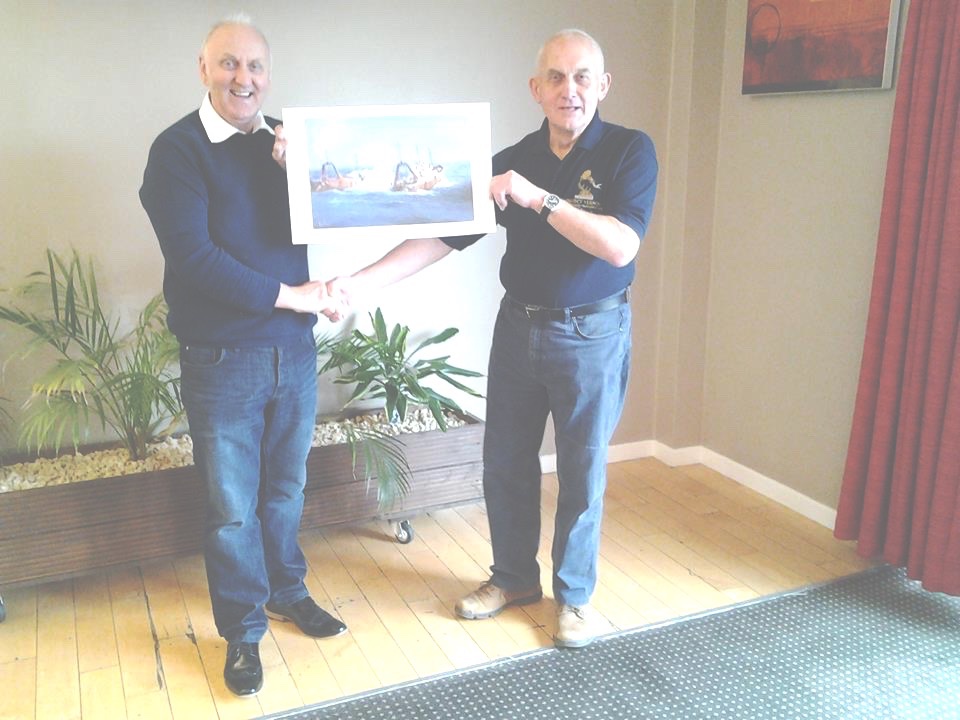 Print of 'Roughers off Port Stanley - 1982' by Adrian Thompson
Marine artist Adrian Thompson has very generously donated the original painting and the copyright thereto that has allowed the Project to produce a series of limited edition prints for sale. The scene is an accurate facsimile of an original photograph taken from HMS Pict showing two of the five Hull trawlers that were hurriedly brought into Royal Naval service in April 1982 to sweep mines in the South Atlantic during the Falklands conflict.
Manned entirely by Royal Navy, crews, mainly from 'Ton' Class minesweepers and mine hunters of the 1st and 4th (Fishery Protection) Squadrons otherwise in maintenance they performed vital tasks in support of land operations before getting anywhere near the two minefields. These included cross decking 5 Infantry Brigade from the QE2 to the S.S. Canberra and M.V. Norland at South Georgia in less than 36 hours. What followed was an intensive period of destoring merchant vessels of food, stores and ammunition to Royal Fleet Auxiliary ships for onward supply to the troops ashore in the Falkland Islands. Three trawlers were then called forward to conduct covert operations including the resupply of special forces in various locations around East and West Falkland as well as exploratory influence minesweeping to search for mines before all five cleared the Argentine minefields off Port Stanley following the surrender.
Roughers off Port Stanley - 1982 Version:
The scene depicted occurred while the Squadron was between minesweeping operations following the cessation of hostilities 14 June 1982. Note the minesweeping 'tin gear' slung on the stern of the two ships and Junella's 'Jumbo' float. It shows a 'typical day in the office' whereby the ships would come together to collect their messages in turn by heaving line from the duty communications ship, sometimes twice or even three times during the day. Here, HMS Junella dips her nose into a large wave as she makes an approach on HMS Cordella that manages to slide over the top of the wave. Men can be seen working Flag Romeo to bring the ships alongside and a lone figure on Junella can be seen waiting to take Cordella's heaving line, just as the wave engulfs him.
Minesweeping was particularly hazardous in these sea states for, although the ships were quite stable and could sweep in these conditions, it was difficult to spot the mines floating on the surface once they had been swept. Other ships following on then ran the risk of running into them.
Junella swept four, Cordella none as she was leading the formation, keeping herself in previously swept water. Pict in the No.2 position swept 3 mines; Northella had to alter quickly to avoid the first one that surfaced a short distance ahead of her. Northella subsequently bagged 2 of her own and Farnella got one. The last of the live mines swept was recovered for further investigation in an operation made difficult by the rough weather. After several attempts, a small team of mine warfare specialists comprising Chief Petty Officer 'Tex'' Roy Marshall and Leading Seaman 'Smudge' Nick Smith led by Lieutenant 'Bernie' Bruen, Royal Navy, Officer in Charge of Fleet Clearance Diving Team 3, attached a tow rope to the mine, dangerously nudging the mine's horns in the process.
Lieutenant Bruen had arrived by helicopter while the ships were in the minefields with urgent instructions fthat a mine was to be recovered for intelligence purposes if at all possible. With the probability that this would be the last day when mines would be swept he decided to 'strike while the iron was hot' and he was despatched by Gemini, launched without pausing to recover sweeps, to link up with the mine disposal ship Junella. Once the mine was on a long tow, Junella then recovered the team as conditions worsened and towed the mine inshore where it was subsequently beached. Junella's mine warfare specialist seaman landed and took up the inboard end of the tow rope, dragging the beast into shallow water where 'Bernie' Bruen made it safe supported by Chief Petty Officer (Clearance Diver First Class) Graham 'Piggy' Trotter and Leading Diver Antony 'Thommo' Thompson.
Bernie had asked to be issued with a war stock EOD tool kit before deploying from UK but this had been refused. Apparently it would be required to remain in UK should war break out in the interim! Using a hammer and a screwdriver borrowed from Junella and finally a blob of plastic explosive to remove the last two bolts on what could be a booby trapped bottom plate, he finally found the detonator and made the mine safe. The hair raising account of the operation to recover and render the mine safe is contained in the book 'Keep Your Head Down' ISBN 1 85776 262 6 by Bernie Bruen. If you would like to purchase a copy then please get in touch through the 'Contact Us' page.
Later, HMS Ships Brecon and Ledbury, the two brand new GRP mine counter measures ships arrived from UK and hunted down and destroyed the sunken mines and others found on the seabed that had not operated properly.
Prints of 'Roughers Off Port Stanley - 1982' (520 mm x 330 mm) have been produced to the highest standard using a Ricoh Pro C9100 Digital Press onto high grade, acid free paper.
- Firstly, a limited edition series of 141 prints, signed and numbered by the artist 1/141 to 141/141 is offered for sale, that being the total number of officers and men of the five ships. The Souls On Board lists that were sent ashore in the event of loss of any of the ships, taken with the seniority order of the ships, provide each member of the 11th Mine Countermeasures Squadron with his own unique Squadron number. Each print number thus represents and honours an individual who served in the 11th Mine Countermeasures Squadron for the brief four months of its existence. This edition is available to all and those who served in the 11th MCM are invited to use the 'Contact Us' form for details of their own unique number.
- Print No. 141 of 141 has gone to former Leading Stores Accountant Andy 'Charlie' Watts who was the last sailor to join the Squadron. Four of the trawlers, now commissioned as Her Majesty's Ships, had already left Rosyth for the South Atlantic in late April and Pict was within one hour of sailing when 'Charlie' was ordered to pack a bag and sent to make himself useful to the five ships.
- A skilled professional he had a knack of acquiring essential stores from other ships that the Squadron encountered; a side of beef and 30 camp beds from QE2 , the latter in case we had to accommodate extra troops. From various merchant ships and RFAs he 'borrowed' tins of paint used to camouflage the ships' white upper works and from other warships, vital lamp bulbs for the Squadron's visual signalling Aldis lamps that kept blowing owing to voltage irregularities. On passage home 'Charlie' visited all five ships to muster stores and while in each one raised a total exceeding £5000 through a darts competition for the benefit of the Guide Dogs for the Blind organisation resulting in a dog called 'Falkland'. Yes, 'Charlie' made himself useful.
- Available also is an Artist's Proof Edition, limited to 28 prints, this being the average number of Royal Navy personnel on each of the five Hull trawlers. This edition is signed and numbered individually by the artist and has been endorsed additionally by the Squadron Senior Officer.
- A Special Edition of 15 prints only has been produced, numbered and signed by the artist with an extra large border, each measuring 556 mm x 330 mm overall to accommodate the signatures of the four surviving commanding officers.
- There is a small stock of unsigned and unnumbered prints from the printer's over run that are offered at a reduced price.
All prints can be supplied framed at extra cost, please use 'Contact Us' for a quotation.
UK postage and packaging charges are included in the prices quoted. For a tailored overseas quotation (including postage and packaging) prior to committing to an order, please advise which print version you require and your address via the 'Contact Us' page. The team will endeavour to provide you with the best cost and time efficient delivery options available.
Credit card, Paypal and direct payment online options are available. If using the direct payment online option to the Charity's account as detailed below, you should still complete the 'Contact Us' form so we know to whom and where to send the order. You will then be able to enjoy your own bit of history.
Vernon Mine Warfare and Diving Monument
Sort Code: 20-69-34
Account number: 50089451
For overseas customers: IBAN GB49 BUKB 20693450089451